AVON YEAR LISTING 2006

May 2006

190 species seen by the end of May.......
May 31st

This evening myself and a fellow Avon year lister made the trek to the very south of Avon, "somewhere" on the Mendips. After a 15 minute walk we waited in some likely looking habitat and at 9.25 PM we heard our first
Nightjar
of the year. Ten minutes later I was lucky to see a male briefly in flight and saw it land on an exposed Birch branch just in front of us. We then watched it churring in full view. A second bird flew out and both birds passed just 15 feet above us calling and wing clapping. I was just quick enough to capture one of the birds silhouetted in flight. A second pair were later seen and heard doing the same. The walk back to the car produced some Roe Deer and a calling Tawny Owl. A magical evening and my best ever views of these secretive birds.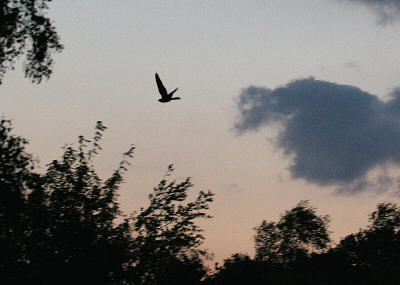 Nightjar
, Mendip 31.5.6

May 25th

After receiving a call about a pair of
Grey Partridges
near Downthorns Farm at Marshfield, I made yet another trip this evening along the M4 to the eastern edge of Avon. After seeing numerous Yellowhammers, at least 8 Red-legged Partridges, 2 Brown Hares and a Fox, I was about to accept defeat on my 6th attempt this year. A head of a Grey Partridge then "popped up" amongst a low crop, eventually followed by the body and a second bird. By the time I had switched my camera on they walked deeper into cover. I attempted to get closer to the birds along the footpath but they saw me before I could relocate them and flew off into some tall oilseed rape. I spent the next 40 minutes listening for Quail in some good looking spots without any luck but I will return when the weather hopefully improves in June.
May 24th

There have been good numbers of seabirds in the area for 5 days now but for me any way, it has just been much of the same. Between 05.45 and 07.00 this morning I saw 3 Storm Petrels, 4 Fulmar, a Gannet and 7 Kittiwakes at Severn Beach, an excellent start to the working day. One of the Storm Petrels gave astonishing views as it flew low over the top of the beach pattering the ground amongst feeding Starlings! Three Storm Petrels (the same or more) gave close views from the seawall again this evening along with a group of 3 dark phase Arctic Skuas that I watched from home. I'm not complaining, I just wish a few of the many Manx Shearwaters further down the Bristol Channel would move up this far.
May 19th

Some wet and windy weather produced a number of seabirds in the estuary and I had an opportunity to get some photographs of them from Severn Beach. The best find proved to be some
Storm Petrels
that remained on view for several hours, pattering on the water just a few yards from the sea defences. I also saw at least 20 Gannets, 15 Fulmar, 120 Kittiwakes that were close enough to hear calling, 3 Common Scoter, a dark phase Arctic Skua and a Common Tern but missed a Manx Shearwater and another Arctic Skua.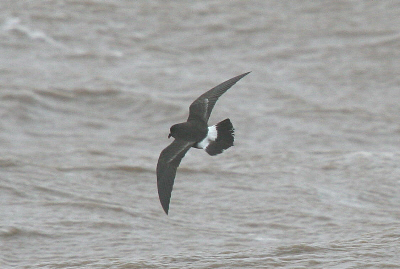 Storm Petrel
,Severn Beach 19.5.6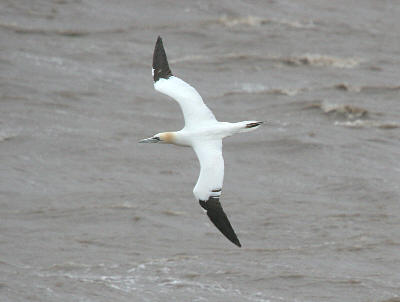 Gannet
, Severn Beach 19.5.6

May 14th

A fine and settled morning had me once again visiting the Avon "premier" migration watch point of Sand Point. Within a short time my target of two
Tree Sparrows
gave excellent views near the trig point. This was a bird I was pessimistic of seeing this year following the recent dramatic decline in numbers but these two birds had been present for at least 4 days. I also saw a distant Arctic Skua heading low up the estuary, a couple of Wheatears and a Little Egret but missed a Mealy Redpoll that was still present.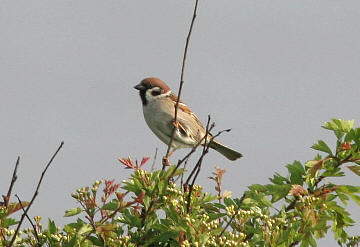 Tree Sparrow
, Sand Point 14.5.6
May 12th

The good run of birds continues. A
Spoonbill
was found yesterday evening on the Somerset border, on the River Axe near Uphill. It roosted on the Somerset side. Having overslept this morning I received several text messages prior to 05.30 to say it was still there. By 06.40 I was at Uphill and a quick scan of the Somerset side failed to find the bird. I decided to walk further up the Axe and to my surprise I saw it two hundred metres away on the the Uphill saltmarsh. Just as I started to fire off a few pictures a jogger flushed the bird. It flew further up the river and appeared to land closer to Weston Sewage works.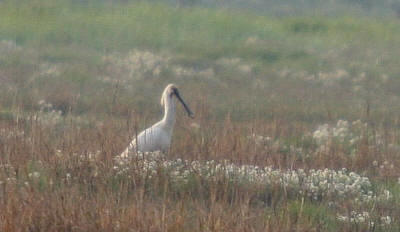 Spoonbill
,
Uphill saltmarsh 12.5.6

May 11th

With fine and settled weather and the Severn Estuary "empty" for most of the day, I had another attempt to find some Grey Partridges at Marshfield. I visited all the usual locations and once again just managed to see a few "Red-legs" and couldn't hear the 2 early Quail reported yesterday.

May 10th

Sand Point was the place to be again this morning. At least one
Mealy Redpoll
was found in a flock of 12 Lesser Redpolls. By the time I arrived the flock had moved into a dense area of thorns and were found feeding on the blossom. After an hour I was able to locate a Mealy Redpoll and compare features directly with at least 5 of the Lesser Redpolls; a noticeably larger bird, greyer toned, pale rump, pale tram lines down the back, very obvious broad white wing bars, pale breast and belly lacking buff tones with some streaking on the flanks. Another Redpoll with a bright red breast, white underparts, gleaming white wing bars was seen briefly. A tricky but very interesting bird for the year. This evenings high tide at Severn Beach produced my first 5
Sanderling
of the year and an unexpected female Red Breasted Merganser, my 150th Severnside bird of the year. An impressive thunderstorm arrived at dusk that might produce something interesting tomorrow.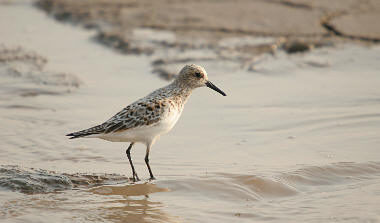 Sanderling
, Severn Beach 10.5.6
May 8th

No new birds for the year today but a fine drake Garganey on the Grebe Pond at Northwick Warth was worth the short walk from New Passage. There have been a few of these exotic ducks arriving in the estuary with others being found at Slimbridge, Goldcliff and Weston-super-mare.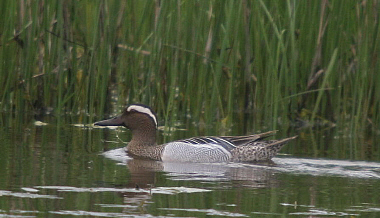 Garganey
, Northwick Warth 8.5.6
May 6th

I had another very early start this morning to look for some good woodland birds in the North East of Avon near Wickwar. After walking for miles we eventually located a singing
Nightingale
in a clump of Hawthorns. By 8 o'clock we were about to leave and were lucky to hear my first
Cuckoo
of the year. Hopefully there will be a few more local Cuckoos but they certainly seem to be very scarce in recent years.
May 4th

With warm air, a light North East wind with some mist over the estuary I expected to find some Terns this morning. At 9 o'clock, a group of 5
Little Terns
flew along the tide line at Severn Beach and then high over the second Severn Crossing. A 6th bird flew up and down the sea wall for 10 minutes and I was lucky to find it later roosting on the industrial discharge pipes opposite the Astra Zeneca works. A mixed flock of 35 Arctic Terns, a couple of Common Terns and 3
Black Terns
landed briefly on one of the shingle islands off Severn Beach before eventually flying of high and East over my house.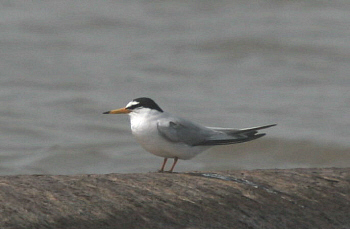 Little Tern
, Severn Beach 4.5.6

May 3rd

A warm day and a few migrants had dropped in overnight. A
Spotted Flycatcher
was feeding in the Glen at New Passage, a fine male Whinchat was with 3 Wheatears on the rocky beach south of Severn Beach. I was lucky to find a singing
Wood Warbler
nearby at the Orchard Pools.

Whinchat
, Severn Beach 3.5.6
May 2nd

A moderate South wind produced a steady passage of Swifts over Severn Beach and a
Hobby
that flew inland from the estuary.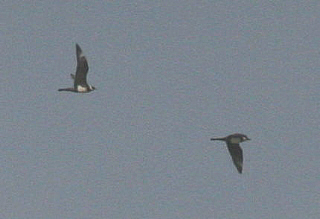 Pomarine Skuas
, Severn Beach 1.5.6

May 1st

A sea watch from Severn Beach in breezy conditions produced 2 pale phase
Pomarine Skuas
and 2 dark phase Arctic Skuas, all of which flew high inland (NE). Hopefully these are the first of many but it would be a good day to beat the total of 36 seen here on 4th May 2004.